---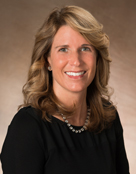 Melissa
Professional Relations Coordinator
Mel is a 1991 graduate of Shaler Area High School and Beattie Technical School's Dental Assisting program. She began her dental career working as a dental assistant and joined our practice in 1992. For 22 years, she was an orthodontic assistant, and in 2013 she took on the role of Professional Relations Coordinator.
Mel's outgoing, energetic, and enthusiastic personality and commitment to our practice success makes her the ideal person for this position! She is highly involved in creating and building strong relationships with our referring dentists and their staff. Mel creates the fun contests that are held in our office, and makes visits to the local schools, helping to educate the students on the importance of excellent oral health. She participates in community sponsored events, answering our neighbors' questions about orthodontic care and promoting the benefits of orthodontic treatment. She also runs the referral marketing program in the practice and coordinates our Make-A-Wish® fundraising events.
If you see Mel at a community event representing our practice, please stop by and say hello!
---
Sarah
Treatment Coordinator
Sarah has a long history with GKG Orthodontics: she was a patient of ours many years ago. She had such a great orthodontic experience that she knew she wanted to work here. She finally joined our team in 2006. As our treatment coordinator, Sarah works with new patients to explain their treatment options and related costs. She loves getting to know all the different personalities of our patients and seeing their smiles transform during treatment.
Outside the office, Sarah is involved with the community, coaching cross country for a local school, and participating in various church activities.
---
Jenna
Financial Coordinator
Jenna joined the practice as a financial coordinator in May of 2015. She graduated from Penn State University in 2013 with a degree in marketing. Having previous management experience in a retail setting, she was immediately attracted to the positive and patient-oriented setting that GKG Orthodontics offers.
Jenna enjoys getting to know patients as well as being able to help their parents find a way to fit a beautiful smile into their budget by suggesting the best payment option for their financial situation. She is dedicated to helping each patient have nothing but a positive experience. She feels honored to work for three doctors that appreciate not only each patient but their entire staff as well.
---
Cecilia
Front Desk Coordinator
Cecilia joined our practice as the front office coordinator in April of 2013. Although her previous managerial experience is in the culinary and grocery store industries, she is attracted to the positive and patient-oriented environment at GKG Orthodontics.
Cecilia also has fond memories of her own orthodontic treatment experience when she was an adolescent and is excited to be able to help provide a similar experience to the patients of Drs. Grady, Kastner and Gornick. Her positive attitude and sense of humor help to maintain the upbeat environment of the front office.
---
Cathy
Appointment Coordinator
Cathy joined our practice in 1999 and has worked at the front desk as our appointment coordinator. Cathy makes every effort to coordinate your appointments in a courteous and professional manner, and to be as accommodating as possible.
Before working at our office, Cathy and her three sons were patients of ours. She was so impressed with our office during their visits that she was determined to land a job with us someday. Two years after she began working here, her husband also had his orthodontic treatment at our practice. Cathy's family photo is a beautiful tribute to the professional work of our outstanding orthodontists.
---
Annette
Appointment Coordinator
Annette has worked as a secretary and administrative assistant in several different professions for more than 30 years. She finds it a true pleasure to work at the front desk of such a dedicated and professional office.
Annette experienced our doctors' skill and dedication first-hand many years ago when her own children had their orthodontic treatment completed at our office. Needless to say, she is now proud to be a part of this finely tuned and exceptional staff.
---
Mary Beth
Appointment Coordinator
Mary Beth joined our office in 2016, bringing her bright smile and friendly attitude to our front desk. She enjoys the fast-paced, fun environment of our office, but especially loves that everyone here is truly a team player!
Mary Beth and her husband Bryan have two boys and a Labrador named Toby. Her hobbies include traveling, gardening, and spending time with friends and family.
---